Asia 2.0 Packing List
Here is what I brought with me on my trip to Asia. I am using my MEC Aurora 50 backpack. 
Clothing
Tops: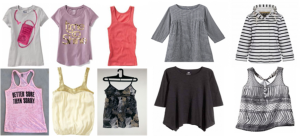 2 t-shirts (1 quick dry), 5 tanks, 3/4 length shirt, black cardigan, breathable jacket
Bottoms:
Other:
Socks, underwear, 2 bras, sports bra, 2 bikinis, black scarf, bandana, MEC hat, rain poncho, Merrell hiking shoes, black flip flops.
Electronics
Google Nexus 7 tablet, iPod Nano, point and shoot camera with extra memory cards and backup battery, and all cords/chargers/adaptors
Toiletries
toothbrush/paste, floss, mouthwash, glasses, contacts, contact solution, shampoo, conditioner, soap, razor, face wash, deodorant, tweezers, nail clippers/file, moisturizer(with 15 SPF), cover up, hair brush, hair elastics, bobby pins, head band, lip balm
First Aid Kit
30% Deet bug spray, malaria meds, afterbite, pepto bismo, imodium, gravol, ibuprofen, travelers diarrhea meds, bandaids, polysporin, moleskin, eye drops, sunscreen(30 SPF), hand sanitizer, toliet paper, throat drops, allergy pills, probiotics, omega 3 capsules, multivitamins, activated charcoal tablets, ginger capsules, "Digest-Aide"
Miscellaneous
sunglasses, TFSA locks, swiss army knife, watch, alarm clock, mini flashlight, hand lotion, trip book, pens, inflatable neck pillow, nausea wrist bands, magazines/snacks for plane, laundry soap, sink plug, tide to go , extra plastic bags, passport, credit cards, ATM card, USD cash, flight/hotel/tour confirmations, copy of important documents, travel insurance all packed and ready to go!
Southeast Asia Packing List
Here is what i brought with me on my first trip to Southeast Asia, along with a couple of things I would have done differently:
Tops
5 t-shirts (2 were the breathable active type shirts)
2 tank tops (1 basic, 1 dressier)
1 breathable jacket
1 lightweight cover up (to keep in my daypack to use when entering temples,etc)
Bottoms
1 pair of long pants (that convert to capris)
2 pairs of capris
1 pair of shorts
1 skirt (that can be rolled up or down for different lengths- makes a great night out outfit when paired with either of the tanks i brought)
Other Items
2 bikinis (kept in bigger ziplock bag incase i would have to pack them before completely dry)
1 pair of pj pants
1 pair of comfortable runners
1 pair of flip flops  (unworn shoes were kept in a plastic bag to avoid transfer dirt around my pack)
I also brought 3 eagle creek packing cubes, which were great for organizing my pack. One packing cube had all my tops, another my pants, and the smaller double-sided one contained my socks, underwear, and bikinis.
Other Important Items I Packed
Toiletries
 The regular stuff, just in smaller bottles  (2 separate bags, 1 for the shower- this will help with organizing and my other things won't get wet)
First aid kit   
(Including band aids, moleskin, medication, deet bug spray, and sunscreen)
Other items
 Can't forget these little extras  (Like sunglasses, bag lock, alarm clock, mini flashlight, laundry soap, watch, snacks, rain poncho)
Electronics- don't forget the camera!  (iPod touch, cords and chargers, power adapter, extra camera batteries, memory cards)
Important documents (including copies of passport, plane tickets, confirmations, and travel insurance)
I packed all these items into my MEC Aurora 50 backpack. I also used the MEC Ridgemont Daypack for my carry on and day bag.      (My doggy was not too happy that I was leaving)
What I Wish I Did Different
Looking back I wish I had packed a couple more things, and left a few things at home. I brought too many t-shirts (thinking that I would be too exposed in these conservative countries wearing anything else). I should have swapped a couple of my t-shirts for a couple of cute tank tops, and I could always put on my lighter cover-up or scarf if I felt a bit overexposed. I did the same thing wrong when it came to the bottoms I brought. I should have left one pair of capris at home and brought another pair of shorts instead.
While in on the road I bought a couple of tanks, a t-shirt, pants, a skirt, and a dress. I wish I bought more but I didn't have a lot of time for shopping, and I forgot my ATM card when I visited one of the best markets. I did however buy like 10 scarfs (most I gave away as gifts though), and 3 bags. Next time I will make sure to have lots of space in my bag to fit more awesome market purchases.
[/vc_column_text][/vc_column][/vc_row]